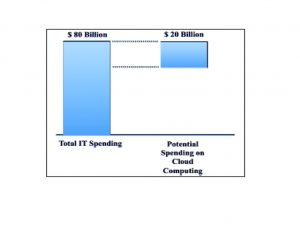 The term "cloud" has many meanings and definitions.  At Tachyon Dynamics we mean one thing: moving your physical and bulky servers to a private enterprise cloud using the most cutting edge virtualization solutions from Linux KVM, Cisco, Open Stack, VMware and Citrix/Xen.  The push in the U.S Government (according to the previous CIO Vivek Kundra in the Federal Cloud Computing Strategy) has been to make IT more agile and less expensive.  The U.S. Government believes that this can result in a huge savings:
Tachyon Dynamics has developed numerous cloud solutions and provides cloud services such as:
Seamlessly migrating your physical servers to a highly available and cost saving virtual infrastructure
Provide a real-time Return on Investment (ROI) analysis of what you are saving in infrastructure costs, space, power and resources
Provide a charge-back system to show managers/CIOs the current utilization of their cloud resources by specific users/systems.
Provide a self-service, web-based, customer-facing portal that is integrated in the organization's current Information Technology Infrastructure Library (ITIL) workflow and change management process.
Provide a public, private, or hybrid cloud strategy.
Design a public cloud infrastructure for public-facing systems and applications with some of the world's leading commercial cloud solutions companies.
Integrate leading cloud-based networking technologies like Software Defined Networking (SDN) and Network Functions Virtualization into private cloud solutions.
However, the cloud technology isn't the only consideration in play – operations and management (O&M) are even more important.  At Tachyon Dynamics we help potential public/private cloud clients:
Develop roles and responsibilities for the framework around "who does what" in Infrastructure as a Service (IaaS), Platform as a Service (PaaS), and Software as a Service (SaaS).
Build detailed concepts of operations tying in network monitoring with software defined networking (SDN) and Network Functions Virtualization (NFV) tools
Tachyon Dynamics provides the most cutting edge and highly-available private enterprise cloud solutions in the U.S. Federal and DoD marketplace.  Let us be your cloud integrator today!  Please get in Contact with us!