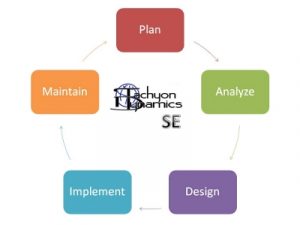 Tachyon Dynamics provides the highest level of enterprise systems and network design/engineering using the Systems Development Lifecycle (SDLC) methodology, also known as the "waterfall" method, and the best of stakeholder interactions included in the "Agile" method.  This hybrid model has enabled Tachyon Dynamics to provide its customers with superior and highly reliable IT infrastructures, all while keeping the customers completely involved throughout the entire process.
Our engineers develop enterprise solutions on a regular basis for large government agencies, and through our internal quality assurance program, vet those solutions in order to maintain a high level of customer satisfaction.  This process allows each solution to be fitted for each environment, yet still providing the highest level of solutions possible.
Tachyon Dynamics provides real-world solutions, re-purposing equipment if possible, so your organization can "phase out" End of Life (EoL) equipment, minimizing out of budget expenses.  In today's market, with budgets decreasing annually, we provide the best value solution with the most cost effective utilization of your current IT expenditures.
---
Tachyon Dynamics also provides superior server platform services such as:
building systems using any Operating System
hardening OS images from Microsoft Windows Server 2008/2012 R2 and Red Hat Enterprise Linux using Defense Information Systems (DISA) Security Technical Implementation Guides (STIGs).
Designing and engineering a converged hypervisor system using Vmware, OpenStack, KVM, Microsoft Hyper-V, or Red Hat Enterprise Virtualization (RHEV)