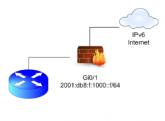 For over a decade, Tachyon Dynamics has focused on Internet Protocol version 6 (IPv6) and the design, development and vulnerabilities of migrating from IPv4.  Our engineers are highly experienced and considered in the industry to be the Subject Matter Experts (SMEs) for IPv6 and the implementation of this new protocol.  Utilizing both Systems Development Lifecycle (SDLC) and Agile methodologies, our Tachyon Dynamics will:
Plan and assess your enterprise's current IPv6 capabilities
Provide a detailed set of engineering requirements meant to represent the real mission needs of your organization
Engineer a solid IPv6 architecture with cutting edge and secure technologies and strategies encompassing a holistic understanding in Layer 3 networking with IPv6
Plan and engineer your enterprise's IPv6 test and evaluation plan, architecture and strategy
Provide your enterprise with an effective and fully repeatable IPv6 transition and implementation plan
Harden your infrastructure with the most current IPv6 cyber security initiatives in existence
Our engineers have been on the ground designing, developing, operating, and engineering IPv6 into numerous DoD agencies: notably the Defense Threat Reduction Agency (DTRA), Defense Logistics Agency (DLA), and the Defense Technical Information Center (DTIC).
The IPv6 engineers and architects with Tachyon Dynamics take pride in the quality of your infrastructure's implementation.  We will stand with you until completion!
---
IPv6 Training
Tachyon Dynamics' engineers also provide some of the highest quality in IPv6 training, focused on your enterprise goals and objectives.  Tachyon Dynamics provides:
On-Site Training
High-Quality and hands-on labs with the newest in networking technologies
Support for IPv6 training in routing, switching, and server-based systems
For more information on IPv6 training please see here: IPv6 Essentials for IT Professionals by Tachyon Dynamics